Frank Kelly has been a signal operator for more than five decades on the London Underground.
But the signal box he operates will soon be replaced as automation is introduced to signalling at the junction.
And after many years of dedicated service, Frank will be retiring with the signal box.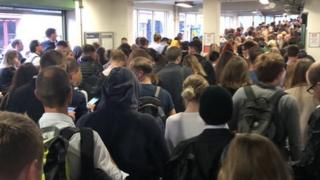 The entire Northern Line on the London Underground has been suspended due to a signal systems failure at the main control centre.
The line was suspended at about 06:30 BST and Tube tickets are being accepted on Southeastern and Thameslink trains, as well as on trams and buses.
Both the Bakerloo line and Metropolitan line have minor delays while a new signalling system is established.
Transport for London said it was "working hard to restore the service."
The delays come as schools open for the new term this week and one commuter tweeted that he "hated the Northern Line".
Brian Woodhead, London Underground's director of customer service, said: "I am extremely sorry for the disruption suffered by customers on the Northern line today following a signalling system failure at our control centre.
"Our engineers are working hard to fix the problem and restore a full service as quickly as possible."